Each of our classes are held in our Design Studio ( the rear of 406 Green Street in Mifflinburg) unless otherwise specified. Cost and time of class varies, refer to the class details for exact prices and times. Please use our contact form to sign up for a class!
We are limiting these classes to 10 – 12 people, so register early! Hope to see you there!
If you are interested in a custom class by Keith at your location, please contact us.
Fall Patio, Porch Planter ($50)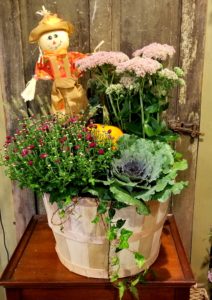 Tues, Sept 17 at 7pm

Wed, Sept 18 at 10am

 

In a bushel basket, we will be combining a true fall mixture of perennials, grasses, cabbage & kale, fall mums, along with some seasonal accents to create an amazing fall showstopper.  This class fills up quickly, so be sure to register now!
Hypertufa Pumpkin Arrangement ($60)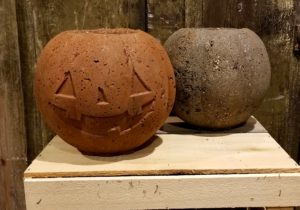 Tues, Sept 24 & Oct 22 at 7pm

Wed, Sept 25 & Oct 23 at 10am

 

This is a 2 session class! We will be creating a Hypertufa (cement and aggregate, we will have dye available if you want to make your pumpkin a more terra cotta orange) pumpkin planter in the first class…allowing it to cure for 3 weeks, and adding a beautiful fresh flower fall arrangement in the second class. This is a lot of fun and you end up with a very interesting and durable container. One side will feature a jack-o-lantern for Halloween, and the other side will be plain for the rest of the harvest season! Remember when signing up…it is 2 classes…and…wear old clothes to the first class…it is messy!!!
Succulent Topped Pumpkin ($60)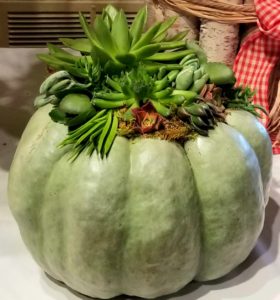 Tues, Oct 8 at 7pm

Wed, Oct 9 at 10am

 

This is going to be a really fun, creative class.  On a REAL pumpkin, either blue, white, orange or pink (if you know what color you want when you register, let me know) we will be topping it with fresh moss, then inserting live succulents creating a living piece of art.  This class is going to be AMAZING!!!  Hope you can join us!