Each of our classes are held in our design studio unless otherwise specified. Cost and time of class varies, refer to the class details for exact prices and times. Please use our contact form to sign up for a class!
This year we are going to have some fun classes at Country Traditions. The classes will be set up in the store, right outside of DC Coffee. The Café will be providing us with a special coffee and tweet treat to enjoy during the class. We are limiting these classes to 12 people, so register early! Hope to see you there!
If you are interested in a custom class by Keith at your location, please contact us.
Green Pitcher Arrangement ($60)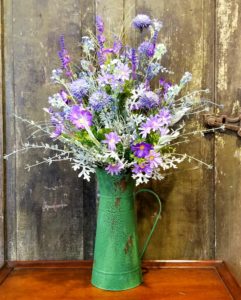 Tuesday, March 26 – 7:00 PM (At Inspired Designs Studio)
Wednesday, March 27 – 11:00 AM (At Country Traditions in Mifflinburg)
Spring Topiary ($60)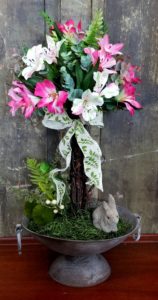 Wednesday, March 27 – 2:00 PM (At Country Traditions in Mifflinburg)